Concert Notes:
Pops Concert on March 9, 2008, 3:00 pm
The Parkway Concert Orchestra presents a pops concert "Washington and Europe" on Sunday March 9 at 3 p.m. at the First Congregational Church, 100 Winter Street, Norwood.
Peter Freisinger conducts the 50 piece non-profit orchestra in classical and pops selections for the entire family. The orchestra welcomes Assistant Conductor Eytan Wurman.
The winner of the Parkway Concert Orchestra Advanced High School Violin Competition is Needham resident Kurt Munstedt performing Lalo's Symphonie Espagnole.
The program also includes Mozart's Don Giovanni Overture, Allen Feinstein's Washington Slept Here, Smetana's Furiant from The Bartered Bride, Sibelius's Finlandia, Ippolitov-Ivanov's Procession of the Sardar, Sousa's Washington Post March, A Duke Ellington Medley, Strauss's Anna Polka, and Leroy Anderson's The Typewriter.
The Cooperative Bank is the Principal Sponsor of the Parkway Concert Orchestra. The program is supported in part by a grant from the Norwood Cultural Council, a local agency and the Massachusetts Cultural Council, a state agency.
Donation is $12; $10 for seniors and $8 for children under 12 years old. For ticket reservations please call 781-762-0288.
The Program:
Overture to Don Giovanni
Wolfgang Amadeus Mozart
Procession of the Sardar
M. Ippolitov-Ivanov,

arr. Merle Isaac

Eytan Wurman, Assistant Conductor
Furiant from The Bartered Bride
Bedrich Smetana,

arr. Hugo Riesenfeld

Washington Slept Here
Allen Feinstein
-- Intermission --
Finlandia
Jean Sibelius,

arr. Adolf Schmid

Symphonie espagnole, mvt. 1
Edouard Lalo
Kurt Munstedt, violin soloist, winner of the
Parkway Concert Orchestra Advanced High School Violin Competition
Anna Polka
Johann Strauss, Jr.,

arr. G. Walter

The Typewriter
Leroy Anderson
Duke Ellington! (A Medley for Orchestra)

arr. Calvin Custer

Washington Post
John Philip Sousa
---
Assistant Conductor Eytan Wurman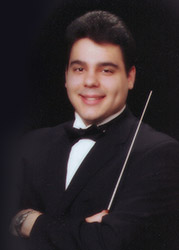 Eytan Wurman is a student at Boston University studying Music Education and Middle Eastern Studies. Before beginning his conducting endeavors he studied piano, voice, and primarily trumpet. Wurman is currently a student of internationally renowned trumpet soloist Terry Everson.
Eytan Wurman's first exposure to the world of conducting was through the Interlochen Arts Camp he attended in the summer of 2005. He credits most of his technique to Dr. William McManus of Boston University and Miguel Felipe of the Boston Conservatory, but insists that his style is entirely his own. Wurman enjoys conducting many styles of music including opera, musicals, chamber works, choral works, symphonic works, as well as wind ensemble repertoire.
Wurman, a dual citizen of the United States and Israel, is very passionate about the peace process in the Middle East. Eytan Wurman dreams to one day have a professional orchestra in the Middle East that comprises both Arabs and Israelis in an effort to bring peace to the most volatile region in the world.
Guest Artist Kurt Munstedt
Winner of the Parkway Concert Orchestra Advanced High School Violin Competition.
Kurt Munstedt started playing the violin at age 5 and has studied with Michael Rosenbloom for the past three years. He performed with the Boston Youth Symphony Repertory Orchestra from 2004-2006, and Longy Chamber Music in 2006-2008, touring with the chamber group to Mexico in 2007. He won a place in the 2007-2008 District and All State orchestras. Kurt has also won several other awards for his string playing, including the Longy Jr. Young Performers' Concerto Competition in 2004. This included two performances, one with the Longy Orchestra and a performance with the Reading Symphony. He won second place in the Massachusetts Music Teachers Association Bay State Contest in 2006, and first place in the MMTA senior division contest in 2007. He represented Massachusetts in the Music Teachers National Association Eastern Divisions in early January. Most recently, Kurt competed in the New England String Ensemble finals at the New England Conservatory and he has been recommended for the string quartet program with Charles Castleman of Eastman.